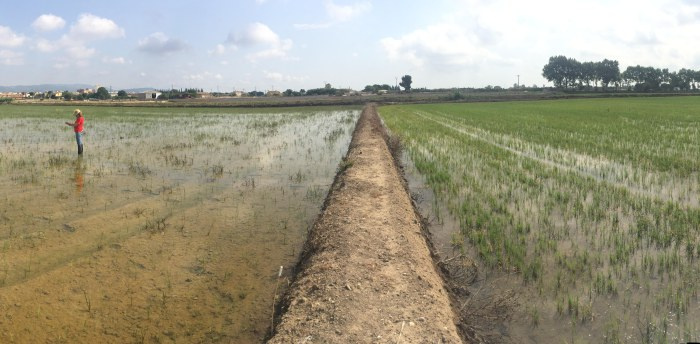 January 20, 2017
Raül Muxach, Journalist at Radio Girona
More rice with less water
Growing rice with less water using between 30 and 50% less seeds on planting is already possible without the production being affected. IRTA of Mas Badia for three years now, has experienced saving methods in private fields with very good results.
Growing rice with less water using between 30 and 50% less seeds on planting is already possible without the production being affected.
IRTA of Mas Badia
for three years now, has experienced
saving methods
in private fields with very good results. Also, 20% of water is being saved in the apple production with a intelligent irrigation system.
The traditional way of cultivating rice involves
flooding the fields
before planting and maintaining an important level of water throughout the growth cycle.
Since three years ago, however, IRTA of Mas Badia and certain rice producers of the Delta de l'Ebre and Pals experiment with
dry rice sowing
and
intermittent flooding
of the field.
The dry sowing is done in spring, when the field is still humid and allows to defer the water supply for up to a month. And if it rains -says
Albert Grassot
, producer of organic rice- "a little more."
When the rice is already big enough, they flood the fields and leave them absorbing the water, and they are filled only when necessary. "Even," says Grassot, "one can wait for six or seven days" between flood and flood.
All this allows to save between 4 and 6 weeks of water, according to IRTA's calculations, to delay the waterlogging, and to neutralize the effect of the
apple snail
so that when it is present, the plant is strong enough to endure. But it is not the only benefit. It also means sowing less, because with dry sowing, there are no shrinkages due to the effect of snails, worms, birds or wind, among others.
According to IRTA, the savings in seeds is 30%, but Grasso raises it, when appropriate, up to 50%: "from 250 kg of seed per hectare we have gone to 115 or 120."
It also has some compensation, he warns. It is necessary to compensate the
nutrients deficit
that implies not permanently flooding the field with a good previous fertilizer, so that the plant can catch it well. We also have to find the way, says the producer, to eliminate the excess of grass, but we are still working on it.
"We started with some test field, this year we have already cultivated 70% of the fields with this system, and next year it will be 100%."he anticipates. And the production? "Not only has it not gone down, but it has increased a little."
Drop by drop

We are also starting to experiment with drop irrigation, but here, says Grassot, the field to run is still large. "You have to invest in irrigation tubes, you have to see how they are put so the machinery will not damage them, and you have to water constantly… however, it has an advantage: the tube can pass water while mix the fertilizer." It is a system that, in his opinion, can go well to implant the rice in territories where it is now unthinkable but it will only have future when the saving in water compensates the extra investment that must be done.
Apple trees
IRTA also encourages savings in
apple farming
through the
"Giroreg"
. Here the reduction of water use is of 20%, and it is obtained thanks to the forecasts that are sent to the producers so that they use the water that, strictly, is necessary.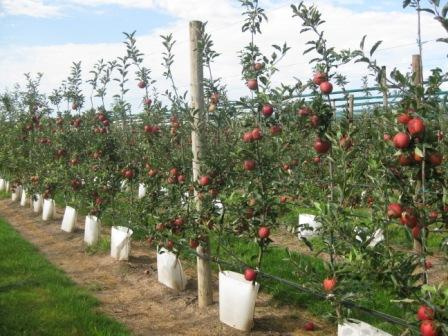 A wall of apples. Photo: IRTA
The exact dose is obtained from the samples collected systematically in 42 specific fields. They are a series of parameters - for example, the amount of water in the soil - that are sent via GPS to a computer program that applies the sieve of the weather forecast before making corresponding calculations.
In summer,
anti-hail nets
are also used to limit the impact of solar radiation. It is estimated that 50% of the surface of the PGI Apples in Girona is covered with anti-hail nets.
Article by courtesy of Raül Muxach

/ 29/11/2016